Charly 4.0 for Windows 95/98 (by DJ6PS)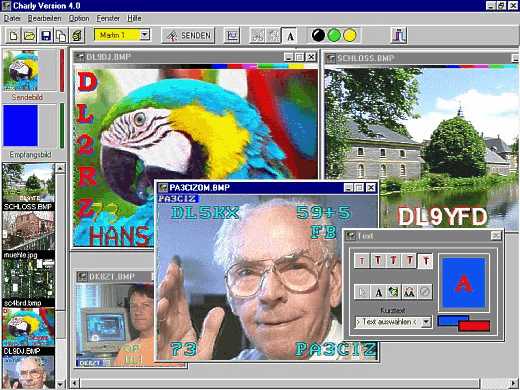 Charly 4.0 Software Features
Integrated Frequency Spectrum Analyzer.



Multidocument capability: The number of open image windows is only limited by system resources.



Built-in unlimited thumbnail catalog (row on the left side), helps to easily overlook a large number of received or stored images.



Full multitasking capability, SSTV (receive and transmit) can run in the background while you are doing other things in other programs, e.g. scanning images, running image processing software etc.



Zoom, infinitely variable! All image windows in the working area can be individually moved and sized.



Picture-in-Picture capability: Simply drag & drop it from one image window into another.



Supports standard image file formats: BMP, TIF, JPG, PCD. Preview window when loading images; direct load from the file manager or the "ThumbsPlus" program by drag & drop is also supported.



Image size is automatically adjusted to the SSTV format during loading.



Clipboard operations are supported, mainly for quick and easy image transfer and conversion from other program-windows, e.g. digital camera, scanner, frame grabber.



Integrated graphical image processing and drawing tools "Charly-Paint".



Integrated comprehensive Text Editor, writes directly on the image, text can be added to images even while they are being transmitted. All Windows fonts, styles, colors, shadows are supported.



"Quick Text" tool allows to quickly insert prepared text strings.



New SSTV Modes W1 & W2 offer more efficient transmission at a reproducable line rate (even fraction of the second).



Supports standard modes: M1/2; S1/2/DX, WRAASE180/W1/W2.



Switchable noise filter reduces background-snow during noisy reception.



Unbelievable noise immunity and sync stability.



Built-in tuning scale on the receive window makes it easy to find the correct frequency and indicates, if an incorrect mode is selected.



The unique "Cut toolbox" allows to cut sections out of one image window (rectangular or any shape) and insert it into any other window by drag&drop. Before finally inserted, it can be moved and sized as desired.



Integrated comprehensive context-sensitive help system (english or german).



No "slant-correction" required.



Written by DJ6PS, Peter Steinkamp.

With the SC-4 SSTV-PC-Scanconverter and the Charly 4.0-software you will be able to take part in one of the most fascinating fields of ham radio: Slow Scan Television (SSTV), the wordwide exchange of high quality color images via your computer and radio equipment.

Other popular SSTV software uses the soundcard approach to demodulate and generate SSTV. As a large number of samples have to be analyzed and processed continuously by the PC, these systems consume a large amount of processor resources, which will then be short for other tasks, like image processing or multitasking, which -if possible at all- will then be limited and slow.
On the other hand, it is very desirable to be able to do sophisticated image processing etc. while receiving and transmitting SSTV, e.g. for preparing other pictures to be sent next. For this, a different approach is required:

"SC-4 & Charly" follows the philosophy of using powerful external hardware to relieve the computer from tasks that can better be done externally in order to achieve best performance, program speed and full multitasking capabilities. Especially under "Windows" it is favourable to have all time-critical and signal-processing tasks being done externally. The SC-4 is a fully functional microprocessor-controlled SSTV-Scanconverter, operated from the PC via the serial port. (You can disconnect the serial cable from the PC during SSTV transmission and the SC-4 will continue transmitting normally from the internal hardware buffer!). As the PC is not involved in signal processing and clock generation, there is no need for a "slant correction", only minor PC resources are used and received information will be displayed immediately without any delay. Due to a special sync-detection-algorithm in the SC-4 firmware, synchronisation is always fast and accurate. The different tasks share a microcontroller and a very fast, specially programmed LSI-chip. Thus high complexity of algorithms and fast speed of operation can be achieved concurrently at low cost. Due to the extremely high noise immunity and stability, the system will receive good images even under severe QRM or QRN conditions. The SC-4 offers the same high sync-stability and noise-immunity in all supported standard SSTV-modes. Therefore it did not make sense to include additional "modes" that don't improve, but confuse.

486DX/50 or better PC or Laptop.
Microsoft Windows 95 or 98.
20MB free hard disk space.
8MB of RAM.
Super VGA type display with Hi-Color or True-Color capability.
Recommended: Digital Camera to prepare your own pictures

Download the "Charly"-software and test it's features now!
Charly 4.0 for Windows 95/98 (

English Version - 1.1 MB)
Charly 4.0 für Windows 95/98 (

German Version - 1.1 MB)


Home | SC-4 SSTV-PC-Scanconverter | History | Ordering Information & Contact
---
MS-DOS, MS-Windows, Windows 95, Windows 98 are registered trademarks of Microsoft Corporation
&copy Copyright 1999 by WRAASE electronic GmbH